Low vacuum can be used to extract smoke and gas.
EFFEX Low Vacuum extraction units
The highly efficient EFFEX Low Vacuum extraction units consist of various extraction arms;
– Flexi extraction arm
– Super-Flex extraction arm
– Mobi-Flex extraction arm
The extractor arms are robust and easy-to-manoeuvre, based on a parallelogram technology and three spring-assisted joints. The arms are equipped with a black hood optimized airflow, easy-to-reach handle and built-in damper. They are flameproof- double-skin and flexible hose of PVC Ø160mm with internal steel spiral. A wall bracket is included with the extraction arm.
Extraction arms
The extraction arms must be combined with an individual extractor unit or a central Mid Vacuum extraction unit. Up to 40 extractor arms can be serviced by the central extraction unit; SM-Fan.
Contact us at: info@reglo.no or +47 33 43 02 80.
Flexi extraction arm

Suitable for gas, smoke and light dust.*
1 simultanous user.
Examples; welding and fine sanding
[ddownload id="191"] Download Product data sheet Flexi extraction arm EN
Superflex extraction arm

Suitable for gas, smoke and light dust.
1 simultanous user.
Examples; welding and fine sanding
[ddownload id="193"] Download Product data sheet Flexi extraction arm EN
V-fans for swingarms

Suitable for gas, smoke and light dust.
1 - 4 simultanous users.
Examples; welding and fine sanding
[ddownload id="190"] Download Product data sheet Effex Swingarm system EN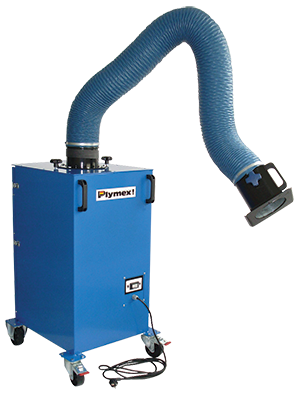 Suitable for gas, smoke and light dust.
1 simultanous user.
Examples; welding and fine sanding
[ddownload id="192"] Download Product data sheet Flexi extraction arm EN

Suitable for gas, smoke and light dust.
1 simultanous user.
Examples; welding and fine sanding
Download Product data sheet Flexi extraction arm EN